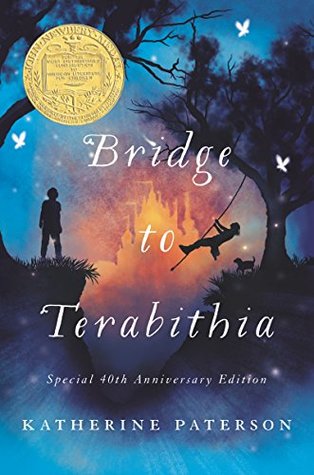 Rating: ★★★
I somehow escaped elementary/middle school without ever reading this book. Ever since the film came out a few years ago, I have felt like the only person who hasn't crossed the Bridge to Terabithia. I'm trying to read more books that I should have read already, and at under 200 pages, this book was a great place to start tackling that goal.
Everybody has that book (or books!) that they just don't like, even though everybody else seems to love it. For me, Bridge to Terabithia is one of those books. I just don't get it. I do not understand the hype behind this book. Yes, yes, I'm 26, not 12, but I'm pretty sure this book would have bored me when I was the age of the intended reader.
Jess Aarons' greatest ambition is to be the fastest runner in his grade. He's been practicing all summer and can't wait to see his classmates' faces when he beats them all. But on the first day of school, a new girl boldly crosses over to the boys' side and outruns everyone.
That's not a very promising beginning for a friendship, but Jess and Leslie Burke become inseparable. Together they create Terabithia, a magical kingdom in the woods where the two of them reign as king and queen, and their imaginations set the only limits.
BookishBlond Reviews:
For some reason, I thought this book was fantasy (it's even shelved as "fantasy" on Goodreads!), but it's not. Yes, this book is about children who invent a magical imaginary world, but Paterson never actually shows us what Terabithia looks like. At least, not really. It's possible I missed those passages, but after finishing the book, all I know about Terabithia is that it has a queen. Paterson presents Terabithia as an imaginary world Jess and Leslie escape to while playing in the woods, but she doesn't flesh it out. Hearing "Narnia" evokes images of satyrs and talking animals, but "Terabithia" doesn't bring anything to mind. I was expecting something Narnia-esque, and I was profoundly disappointed that Paterson didn't deliver.
Similarly, I was disappointed in the characters. Jess was boring and vaguely irritating. His sisters and his relationship with them was nothing special… it must have been mandatory to write sibling relationships like that in the 1970s. I did like Leslie, though. She was a little badass and her parents seemed pretty cool, too. I wish we got more of them. But when I compare Paterson's characters with other "classic" children's books like the Narnia series, and L'Engle's A Wrinkle in Time books, these characters are so flat.
I'm going to discuss some spoilers in the next paragraph, so if you're one of the rare people (like me!) who haven't read the book, you might want to stop reading here!
Leslie's death seemed so pointless. In the Afterward, Paterson explains that she was inspired to write the book after her son lost a childhood friend, which explains why Leslie had to die more than anything else. I really wish I had read the Afterward before diving into the book; I would probably be less disappointed if I had. Paterson wasn't writing her own version of Narnia. She was writing about her son's experience coping with the loss of her friend. So Leslie had to die because Jess/Paterson's son needed to come to terms with her death. But without that context, her sudden death is senseless. I still mostly feel like her death was senseless, but I did appreciate Jess's emotional development afterwards. Really, the only redeeming thing about Jess's character is how he deals with losing his friend, which he had betterdo well, since that's the whole point of the book. In sum, Leslie's death was a plot device that drove the book. I don't like it, but it is what it is.
I really didn't care for this book. It's boring, and there's a disconnect between how the book is portrayed and how it actually is. I understand that I'm reading the book as an adult, but there are so many wonderful children's books available that are both magical and emotionally satisfying that I don't think my age is the problem here. I'm disappointed in Bridge to Terabithia, but I didn't hate it, so I'll give it 3 stars.