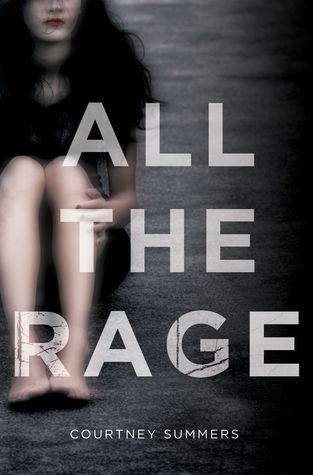 Rating: ★★★
All the Rage is the… third?… book about rape culture I've read so far in 2019. In some ways, it's the best of those books. Summers knows how to pack an emotional punch that will leave you spinning. But in other ways it's seriously lacking. This book is praised as being an must-read about rape culture but if not for the marketing I wouldn't have put it in that category at all.
Goodreads Synopsis: The sheriff's son, Kellan Turner, is not the golden boy everyone thinks he is, and Romy Grey knows that for a fact. Because no one wants to believe a girl from the wrong side of town, the truth about him has cost her everything—friends, family, and her community. Branded a liar and bullied relentlessly by a group of kids she used to hang out with, Romy's only refuge is the diner where she works outside of town. No one knows her name or her past there; she can finally be anonymous. But when a girl with ties to both Romy and Kellan goes missing after a party, and news of him assaulting another girl in a town close by gets out, Romy must decide whether she wants to fight or carry the burden of knowing more girls could get hurt if she doesn't speak up. Nobody believed her the first time—and they certainly won't now — but the cost of her silence might be more than she can bear. 
BookishBlond Reviews: 
I love Courtney Summers' writing. I often lack an emotional connection to characters/books but Summers is an author that knows how to make you feel. This book will make your heart ache. I was so emotionally invested in Romy's story that it hurt. Which is why I'm giving this book three stars instead of two.
But.
I don't appreciate being emotionally manipulated by books.
Okay, just look at the first sentence of the Goodreads synopsis: "The sheriff's son, Kellan Turner, is not the golden boy everyone thinks he is, and Romy Grey knows that for a fact." Read the synopsis and you think you're getting a book about a rape survivor, kind of like Speak. Many reviews even compare this book (favorably) with Speak. But it's nothing like that.
First of all, Kellan Turner, the rapist, is not even a character in this book. His name is literally only mentioned two or three times. He is not a character in this book. Few things annoy me more than dishonest marketing about books, and this feels so dishonest. Furthermore, rape is barely even mentioned in this book. Romy never talks about being raped. She never "heals" or "comes to terms" or whatever it was she was supposed to do. Romy struggles with bullying and managing her tormentors, not the aftermath of rape.
This book is a murder mystery. I feel emotionally manipulated because (1) the book is marketed as being about rape culture/rape survivors and (2) Romy's identity as a rape survivor is used to make readers feel sorry for Romy and to justify her actions.
This book was all emotion and seriously lacking in characters and plot.
Even with all the feels, I did not like Romy as a character. She's bitter and mean, and if not for being a rape survivor, her behavior wouldn't make any sense at all. I understand that a rape survivor may feel numb, but Romy never talks about her emotions or about the rape. The reader is supposed to keep this background knowledge in mind, but it comes from the book's description, not from Romy. There is this weird emotional disconnect where Romy is being mean to her mom or to her love interest, and the reader is supposed to make the connection that Romy is only being awful because of the rape, but the rape is never even discussed? It's bizarre.
Romy aside, none of the other characters here did anything for me. I did really like Romy's mom and stepdad, but everyone else was lacking. I didn't understand why the love interest was so into Romy, especially since she was so mean to him. Romy's (ex)friend, Penny, doesn't feel like a real character. Her disappearance drives the book's main plot line, but we don't know anything about her. The mean girls at school who bully Romy are more non-characters. Who were they?
Summers had so many opportunities to take a unique stance on rape culture, but she never explored the topic. She stuck with the same tropes we see in other books that explore it – the outsider/loner girl who isn't believed and the popular rapist who seemingly gets away with it. I was intrigued by a few things – Romy and Penny's emails, the lipstick/nail polish, the rapist coming back to town… but Summers never goes deeper than the surface.
I also didn't really like Summers playing around with the timeline. I think the story would have been better if told linearly instead of jumping around so much. The book doesn't make sense at times.
And the ending? What? Everything is just… wrapped up nicely? Just like that??
This feels more like a rant than a book review, but I just had to get that off my chest. I read this book in one sitting – it's an enjoyable read – but I'm still pissed off about the marketing.