WWW Wednesday is hosted by Taking On a World of Words. Every Wednesday, the posters discuss 3 Ws:
What are you currently reading?
What did you recently finish reading?
What do you think you'll read next?
This is my first time participating in WWW Wednesday! I'm a student, and unfortunately, I haven't been doing as much reading as I would like to the past few months. But it's summertime at last! I'll be working full time, but I know I'll have more time to read again, and I can't wait to catch up.
What are you currently reading?
Blood and Money by Thomas Thompson: I started this book on a plane last week, on my way to visit my family. Unfortunately… I left my Kindle at my parents' house, so I won't be reading more of this book until my Mom mails my Kindle to me. I thought I was smart to charge my Kindle before heading to the airport, but I ended up leaving it plugged in to the wall. I am so irritated with myself! Have you ever done anything like that? Anyway… I was really enjoying this book. It's a fantastic true crime piece, and I can't wait to get back into it!
On Immunity by Eula Biss: This book had the same fate as Blood and Money! And I was really enjoying this one, too. I'll be working in public health this summer, and I know that a big part of my work will be about vaccination policies. I picked this book up because I thought it would be a nice little primer about vaccines, but it's more like a collection of essays about the author's decision to vaccinate her son. We'll see…
The Last Wish by Andrzej Sapkowski: I am LOVING this book! It's a collection of short stories about the Witcher (who you might know from the video games). I'll definitely be reading the rest of this series!
The Perfect Nanny by Leila Slimani: I picked this short little book up after I listened to a NYT Book Review podcast hailing it as one of the best novels of 2018. I'm honestly not that impressed so far. It's creepy, I guess, but slow.
Perfect Murder, Perfect Town by Lawrence Schiller: Okay, I've been working on this book for months. It's so long, and it really doesn't have to be. I almost wish I'd chosen a different book about the John Benet Ramsey case.
Playing Big by Tara Mohr: I read the first few chapters of this book a couple months ago and haven't felt like reading more, but it's still on the stack of books on my nightstand, so I guess I'm technically still reading it. It's not for me.
The Butterfly Mosque by G. Willow Wilson: I LOVE G. Willow Wilson, and I love reading about world religions, so this book is doubly amazing! I really should have finished this by now, though.
What did you recently finish reading?
Public Health Law in a Nutshell by James G. Hodge, Jr.: I read this book in anticipation of starting my new job! It's an excellent introduction to the field. I'll absolutely be referencing it at work all summer.
Saga, Volume 7 by Brian K. Vaughan and Fiona Staples: Saga is one of the best things I have ever read. Period. This wasn't my favorite book in the series, but it was still amazing.
Where Things Come Back by John Corey Whaley: Fantastic YA novel. You can read my full review here!
What do you think you'll read next?
I wish I knew! My TBR is currently 1,696 books deep. It increases almost every day as I hear about new books I want to read. Do you have that problem, too? However, I think I have my next reads narrowed down: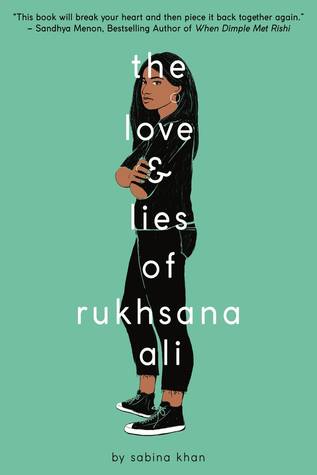 In an Absent Dream by Seanan McGuire: I love the Wayward Children series, but I'm been low-key dreading reading this book because I didn't love the last book in the series. We'll see.
The Demonologist by Gerald Brittle: I've been dying to read this book. I love horror movies, and The Conjuring is such a fun movie… I can't wait to read about the real couple who inspired the film! The reviews are mixed, which worries me, but I'm staying positive!
The Love and Lies of Rukhsana Ali by Sabina Khan: Please give me all the LGBTQ YA novels. The reviews are mixed on this one, too, but I finally got my copy from the library, and I'm excited to read it.
The Weight of Our Sky by Hanna Alkaf: The reviews for this book are AMAZING. Another library book I can't wait to read!
This is such a fun tag, and I'm glad that I got to participate this week! I can't wait to read everyone else's responses. Happy reading!