Rating: ★★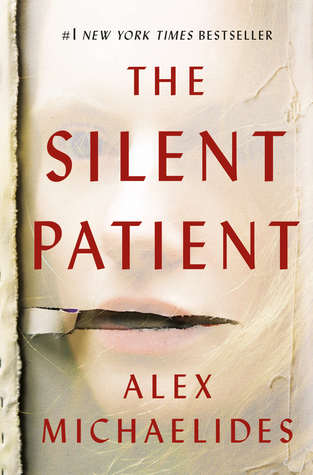 This book just goes to show that you should always trust your instincts!
When I first read the synopsis, I was unimpressed. But then I saw the praise: Blake Crouch and Douglas Preston had very, very good things to say about The Silent Patient. So I decided to give it a try. Never again.
Goodreads Synopsis:
Alicia Berenson's life is seemingly perfect. A famous painter married to an in-demand fashion photographer, she lives in a grand house with big windows overlooking a park in one of London's most desirable areas. One evening her husband Gabriel returns home late from a fashion shoot, and Alicia shoots him five times in the face, and then never speaks another word.
Alicia's refusal to talk, or give any kind of explanation, turns a domestic tragedy into something far grander, a mystery that captures the public imagination and casts Alicia into notoriety. The price of her art skyrockets, and she, the silent patient, is hidden away from the tabloids and spotlight at the Grove, a secure forensic unit in North London.
Theo Faber is a criminal psychotherapist who has waited a long time for the opportunity to work with Alicia. His determination to get her to talk and unravel the mystery of why she shot her husband takes him down a twisting path into his own motivations—a search for the truth that threatens to consume him….
Everything about this book is mediocre. Flat. The writing, the plot, the characters. I'm honestly flabbergasted at the sheer number of 5-star reviews praising this book for its "twist" and for being "unputdownable." I was bored with this book from the beginning, and I ultimately had to force myself to finish it. The plot is nothing new – we have a psychologist and his patient, a now notorious artist who has spent the last six years locked up in a mental institution after killing her husband. Insanity defense, of course. Even though the psychologist has just started working there he is instantly able to get on her case, and spends all his time obsessing over her and tracking down people she knew before she was locked up (which would never happen – this violates so many ethical rules).
Much of the book takes place in the mental hospital, but it was like Michaelides was writing from what he had seen in movies, and not from research about how a mental hospital actually operates. One of the reasons I disliked the book so much was how unrealistic the hospital was – all of the staff act incredibly unethically (and I mean Ethical Rules unethically, not morally unethically), the psychologist basically takes over the place on the first day – even dictating how the actual medical doctors should treat patients, and the patients have waaaaay too much freedom.
I can't even remember the psychologist's name. There was absolutely nothing interesting about him as a character. Much of the plot focuses around two of his relationships – with his patient Alicia, and with his wife. There was just no substance to either of these relationships. In one passage he'll be talking about how passionate he is about his wife, and describing all these intense feelings he has, but that text is juxtaposed to him not doing anything to show us how he feels. The strong emotional language next to physical inaction is very awkward to read. It doesn't match up. He's also supposedly a brilliant psychologist – he does, after all, somehow get a patient who has been practically catatonic for six years to respond to his fantastic therapy – but at the same time, he's baffled by his interactions with people outside the hospital, and doesn't seem to understand basic human emotions. All of this really stuck out to me as I was reading. I do believe that this could be fixed; hopefully Michaelides' writing improves as he continues to write.
Alicia, the Silent Patient herself, was also uninteresting. She was supposedly a celebrated artist before she was committed, but her paintings sound so boring. A picture of her husband as Jesus on the cross? Yawn. The plot is driven by the psychologist investigating the mystery behind what happened on the day Alicia killed her husband, but I just didn't care. It's difficult to make a reader care about a character who doesn't talk or have any internal dialogue. Michaelides tries to overcome this by giving Alicia a voice in some diary entries, but it didn't work for me because there weren't enough diary entries to flesh out her character. They also conveniently provided insight into whatever the psychologist was investigating at the time, so they functioned more to flesh out his story rather than to give Alicia a story. But I guess this book is about the psychologist, not about Alicia. Which is a shame, because I might have liked it more if we got to know her better.
Obviously, I am very much in the minority here. Maybe I just love to hate on popular books. If you like thrillers, you might very well like this one. But everything about this book fell flat for me, and I'm very disappointed in that "twist" ending. I definitely will listen to my gut reaction about books in the future!